Base Boarduino
4-slot Arduino-compatible microcontroller board
ATmega328 microcontroller – same as the Arduino UNO
Four Nanoshield slots
Accepts regular Arduino shields
Consumes only 27mA – half as much as Arduino UNO
User-friendly FTDI USB converter
Micro USB connector – use USB cables from phones
DC barrel jack input for external power supply
Two-wire terminal block input for external power supply
Jumper to connect an external on/off switch
The Base Boarduino is an Arduino-compatible microcontroller board that doubles as a motherboard with four Nanoshield slots. The onboard microcontroller is an ATmega328, the same as the one in the Arduino UNO. That allows programming through the Arduino IDE just like other Arduino boards, with the help of a huge online community.
To upload your sketch, select the Arduino UNO board in the Arduino IDE.
It includes a USB interface with a micro-B connector, so you can use the same cable as the one included in most mobile phones to connect it to your computer. Also, the Base Boarduino uses an FTDI USB-to-serial converter chip, which avoids many problems setting up software drivers in your computer.
The board also offers short-circuit protection on the USB port, so you don't risk frying your computer's USB port if you make a mistake in your circuit. The external power supply input is also protected against reversing the input polarity, reducing the risks to damage the board when making a wrong connection.
The external power supply connection follows the Arduino UNO standard, with a DC barrel jack accepting voltages from 7V up to 20V (up to 12V is recommended). The board also offers an additional external power supply input with a terminal block with screws, allowing use of other types of power supplies that don't have a DC barrel plug. It is also possible to connect an on/off switch to the two-pin male header besides the DC barrel jack (it comes with a jumper by default).
Software development can be done in the same way as it is done in an Arduino. To get started with the Base Boarduino using the Arduino IDE, you can follow the Getting Started Guide in the Arduino website.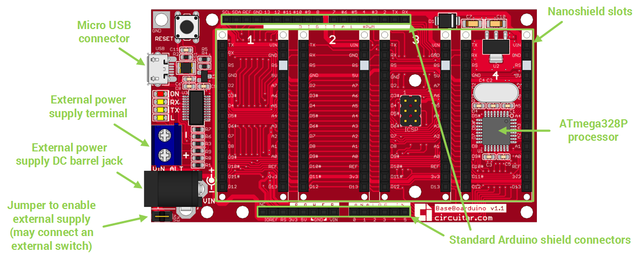 !Connecting Nanoshields to the Base Boarduino
To use Nanoshields with the Base Boarduino you just need to plug them on one of the four slots on top of the board.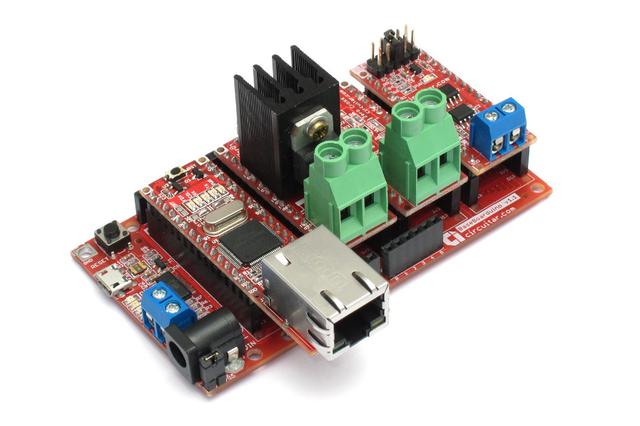 The Nanoshield connectors are polarized, which means the boards can't be damaged by being connected in the opposite direction.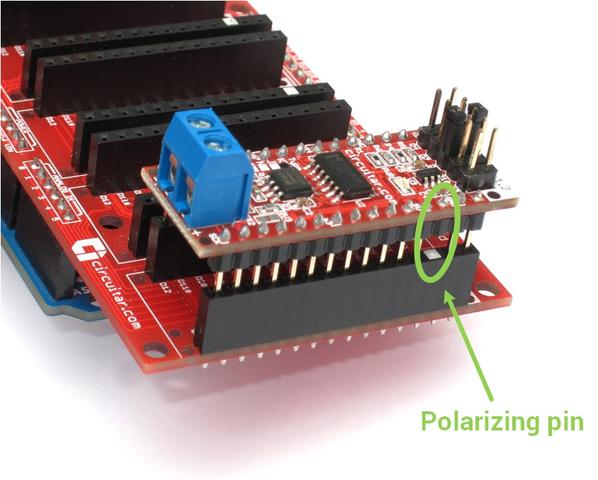 !Connecting a standard Arduino shield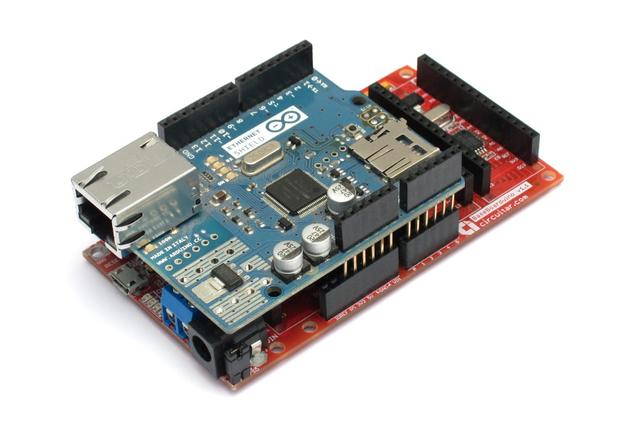 !Using more Nanoshields with the Bridge Board
By connecting the Base Boarduino to a Bridge Board, a Base Board and/or a Base Board L, it is possible to use larger number of Nanoshields in your project.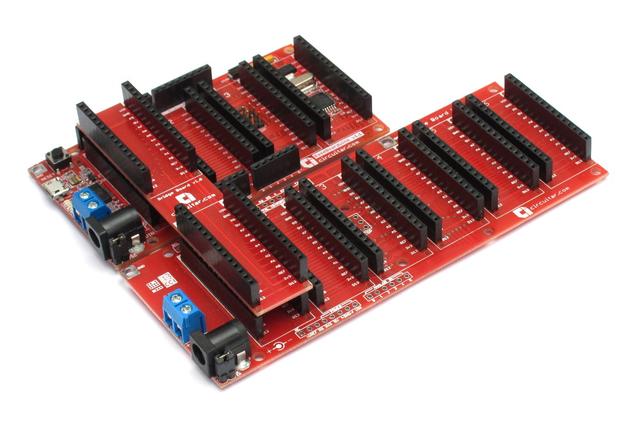 !Connecting an on/off switch
You can use to jumper next to the external power supply input jack to easily connect your own on/off switch.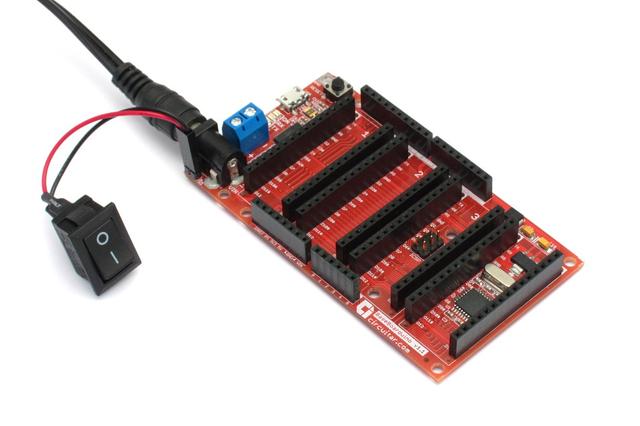 !Features
8-bit ATmega328P microcontroller.
16MHz clock (crystal).
32Kbytes of flash memory.
2Kbytes of SRAM memory.
1Kbyte non-volatile EEPROM memory.
8 analog inputs.
18 digital GPIO pins.
SPI, I2C and UART interfaces.
6 PWM outputs.
Onboard reset button.
Power supply indicator LED (red).
Software-controlled LED o pin D13 (same as Arduino).
LEDs to indicate serial communications (RX/TX).
Micro-B USB connector.
Automatic switch between external power supply (VIN) or USB power.
Short-circuit protection on the USB interface.
External power supply input via DC barrel jack (following the Arduino standard).
External power supply input via terminal block to connect discrete wires with screws.
External power supply voltage: 7V to 20V (up to 12V is recommended).
Protection against reversing polarity on the external power supply inputs.
Jumper to enable external power supply, that can replaced by an on/off switch.
Current consumption of 27mA (standalone, without external circuits).
DC current per I/O pin: 40mA.
Logic levels on the I/O pins: 5V, accepting 2V or more as input high level.
Downloads