Proto1
Prototyping space for your project
If you need to perform a specific task in a project and you cannot find an adequate Nanoshield for that, you can use the Proto1 to build your own circuit and add it to your Nanoshields project. The Proto1 Nanoshield is like a standard perfboard, with 2.54mm spacing between pads, but with some additional features that make it easier to use, like:
Standard Nanoshield size, using one slot of the Base Board.
Identification of all the Arduino pins on the board.
All the pads adjacent to the pins are already connected to them.
The top and bottom rows of pads are connected together, making it easier to connect many wires or pins to the same signal.
Using it together with the Breakout Boards, it's possible to build a variety of circuits in an easy and reliable way.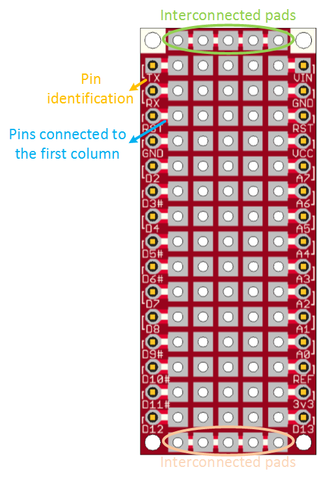 The Proto1 uses only one slot in a Base Board. If you need a larger prototyping area, you can use the Proto2 Nanoshield instead.
Projects