Nanoshields Starter Kit
Projects for the Nanoshields Starter Kit
The Nanoshields Starter Kit is a learning tool that uses Arduino to teach electronics and embedded software programming. The kit was designed to interact with physical devices, such as buttons, LEDs, lamps, buzzers and sensors. With the Nanoshields Starter Kit, you have all you need to complete all the 18 projects that are presented here, in order to enhance your electronics and embedded software skills.
The Nanoshields Starter Kit is based on the Nanoshields platform, and uses a robust and easy to use design that allows easy interaction with external elements like panel buttons, high-power LEDs, lamps, buzzers and other types of sensors.
For the starter kit, a reduced number of components is used, providing easy assembly for learning activities. There is no need to deal with a soldering iron or breadboards, making the learning activity more dynamic. That allows creation of a large number of projects in a short period of time, focusing more on electronics and programming concepts and less on repetitive tasks.
The kit contains:
1x Base Boarduino, an Arduino-compatible microcontroller board
1x Interface Nanoshield with 5 buttons, 2 LEDs and one buzzer
1x Mosfet Nanoshield to control high power DC elements
1x 12V 1A power supply
1x 5mm LDR sensor
1x Micro USB cable
1x Precision screwdriver set
1x 10k resistor
1x 12V automotive DC lamp
1x Lamp socket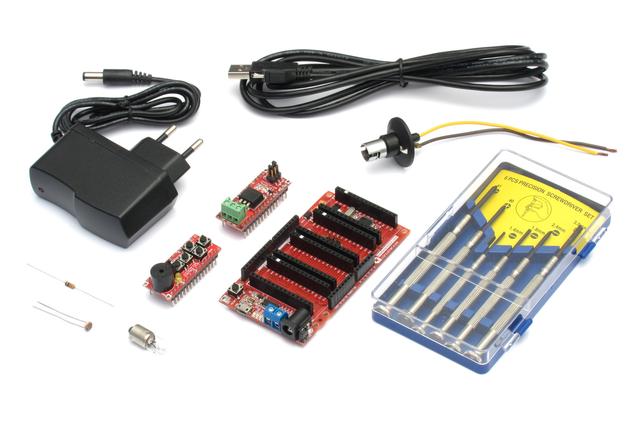 !Project List
After configuring your Arduino – see instructions for Windows or Mac – let's explore the kit through a series of experiments and make progress in each one of them.